Don't leave binbags in the living room, do check the fridge … Stuart Heritage draws on his 25 days' experience of marriage to advise the honeymooning George Clooney and Amal Alamuddin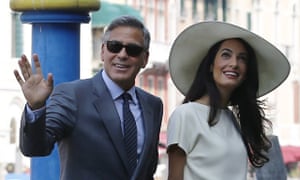 However, as hard as it may be to believe, we are not identical. There is one solitary difference that separates the two of us – George Clooney has been married for only four days, while I have now been married for 25. Although we're both newlyweds, my three-week headstart has lent me a wealth of knowledge that Clooney can only dream about. As the more experienced partner in this set-up, I'd like to take this opportunity to offer him some advice for the situations he's bound to find himself in during the coming days and weeks.
Remembering the ceremony
You're going to love reminiscing about the wedding – the part where you worried about sounding too sarcastic during your vows; the part where you had to chase a load of kids away from the tree you wanted to have your picture taken next to. But remember – this gets old fast. You'll start to sicken yourselves if you're still saying, "I can't believe we're married" to each other a fortnight from now. You'll sicken everyone else much earlier if you don't stop posting wedding photos on Facebook several times a day. Oh, and as an added point, don't put all the table decorations from the reception in a binbag and leave it in the middle of your living room floor. It'll still be there three weeks from now, and you'll bang your toe on it when you're putting the washing out. Trust me.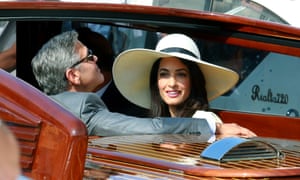 Dealing with media intrusion
In the days following your wedding, you'll find that the press won't leave you alone. In your case, this will be because you're a handsome millionaire movie star who has spent most of his adult life refusing to get married. In my case, it'll be because I forgot to set my out-of-office autoreply properly and work wouldn't stop emailing asking for 600 words on the semi-final of Tumble by Monday morning. It's basically the same thing. Let's both just rise above it.
Gender issues
Thanks to the internet's uncomfortable reliance on finely-optimised headlines, it might seem as if nobody actually cares about your wife at the moment. After all, "George Clooney gets married" will attract much more traffic than "Amal Alamuddin gets married". My wife and I managed to sidestep this pickle by ensuring that neither of us was actually very famous or interesting to begin with. It worked a treat. Just an idea for next time.
When the honeymoon is over
The hardest part of being a newlywed is transitioning from the blissful bubble of your wedding to the cold, hard realisation that life must return to normal. You'll probably discover, for instance, that all your houseplants died while you were on honeymoon. A piece of food you forgot to throw away will have gone rotten and caused your entire house to smell a bit like a bin, too. Deal with it. Real life has to continue. If it doesn't, you'll run out of money in either a week or two (me) or several thousand lifetimes from now (you). The important thing is that you're married. It's quite nice, isn't it?